Ethereum Merge is One Month Away - here's what we know
The transition of Ethereum from PoW consensus to PoS is aimed to increase throughput and reduce carbon footprint. But how exactly will it happen?
Dear Readers,
Happy Independence day to 99% of our readers, the other one percentage should know it's India's 75th Independence day today and hence most offices are shut.
Today's topic is educational rather than breaking down some news.
We will learn about Ethereum Merge, currently a significant blockchain upgrade, and one of the most talked about topics recently. We answer…
What is Ethereum Merge?

The impact of it.

Risks associated with Ethereum Merge.
The date of Ethereum merge is estimated to be September 15, 2022. The final testnet Goerli merged last week. We are now one step away from the mainnet merge.
Before we understand more about Ethereum Merge, I would really appreciate your support for the letter. It's free and it delivers every day to your inbox. Please subscribe.
What is Ethereum Merge?
Ethereum merge is the transition of Ethereum consensus from proof-of-work to proof-of-stake or PoS model. In PoW, miners use special hardware that consumes electricity to produce a block and secure the network. They are rewarded with newly generated ETH plus transaction fees. In PoS, validators secure the network by staking their ETH. These validators do not consume much electricity, infact it is estimated to be 99.5% less than the PoW energy requirement.
The transition to PoS will make Ethereum energy efficient and sets it up for higher scalability with features like sharding later on.
Ethereum PoS transition was divided into two steps.
Launch of Beacon chain in December 2020

The Merge
Beacon Chain:
A separate PoS chain parallel to Ethereum Mainchain was launched to test PoS with Ethereum mainnet without having any impact on the chain. The Beacon chain gave time to stakers so that before the Merge, there was a sufficient amount of ETH staked on the PoS chain. It will secure the PoS chain when the Merge happens.
At the time of writing, the Beacon chain has more than 415k validators with over 13 million ETH staked.
The Merge:
The event on Sep 15, will merge the Beacon chain with the current PoW chain. Following this, Ethereum will fully transition to the PoS model of consensus.
Also, Ethereum Merge is the first of five major upgrades on Ethereum that are estimated to be deployed by 2026.
The Merge

The Surge

The Verge

The Purge

The Splurge
The merge will reduce the issuance of Ethereum to ~1600 ETH per day from ~13000 ETH per day today
. Combined with the EIP 1559 burning, Ethereum may soon become deflationary in nature.
Ethereum Merge will take place when the terminal total difficulty is hit.
Terminal Total Difficulty
At the time of the Merge, the execution clients on Ethereum chain will start listening to PoS blocks as soon as the chain has accumulated enough Terminal Total Difficulty. Terminal Total Difficulty is the sum of total proof of work collected on PoW chain. The current trigger for Merge is set at 58750000000000000000000 and it is likely to hit that on Sep 15, 2022.
At the time of writing, the hash rate is 904.3 TH/s
and the estimated merge time is Sep 15, 2022, at 02:46 AM UTC. The time
may change
as per the hash rate.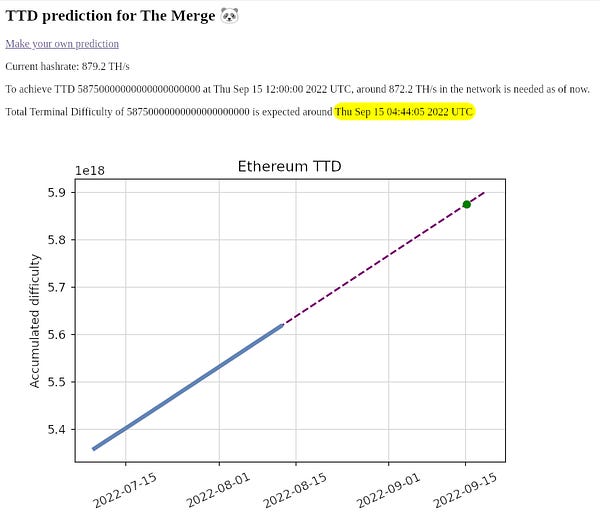 This is the first time an upgrade is scheduled at TTD instead of block height.
The Impact of Merge
After the Merge, all applications running on top of Ethereum should run the same way as before. The transactions history and state are both fully maintained. Any LPs or loans on any of the applications will remain unaffected.
A lot of other things will change for Ethereum post-merge
The time to mine a block is divided into fixed slots of 12 seconds. Slots may miss a block so on average time per block may be higher. It is around 13 seconds for PoW. After Surge's sharding implementation, the throughput of the network may increasee dramatically.

Harder to attack the network due to economic security.

GPUs may become cheaper, due to no longer being needed for mining Ethereum. There is a chance for ETC or other cryptocurrencies using ETHASH mining algorithm to take dominance in the PoW segment.

Decrease of supply in Ethereum over time.
Certain things do not change for Ethereum after the Merge:
No Reduction in Gas Fees.

No major impact on block time or throughput.
These are expected to improve with further upgrades to the network.
Risks associated with Ethereum Merge
The most imminent risk of the Merge is of course a chain split. Ethereum's proof-of-work (PoW) powered by GPUs generated approximately $19 billion in revenue last year for ETH miners. These revenue streams are in danger with the Merge approaching.
Miners could then revolt against the new upgrade by continuing to mine on the old Ethereum PoW after the hard fork chain split. If the PoW chain remains alive and continues to be extended, some are speculating this coin could be called ETHPoW. There is support for ETHPoW from a lot of miners, they are also being called "Merge Resistors"
Only time will tell if they will succeed or not. Perhaps miners are better off moving to Eth Classic.
A little less imminent risk associated with the Merge is centralisation. A huge chunk of ETH is staked with Coinbase and Lido. These can lead to censorship of transactions. But this also seems highly unlikely as overall, the idea is to promote and push adoption of the network, an attacker won't gain much by trying to kill the chain at this stage.
That my dear reader is the end of today's letter on the upcoming Ethereum Merge. It may advance/postpone a day or two but it is highly unlikely for Ethereum Merge to be delayed again.
Please subscribe to the newsletter, so you never miss another one.
---
In other News:
Coinbase books a $1 Billion loss with its credit rating downgraded by S&P. Read more

Binance recovered around 80% of the funds hacked from Curve Finance. Read more

Enforcement Directorate of India freezes over 370 Crore INR of Vauld Crypto Exchange as the latter was unable to provide data on recipients of laundered crypto via their platform. Read more.